Realtors agree that a bathroom or kitchen can actually make or break a home sale.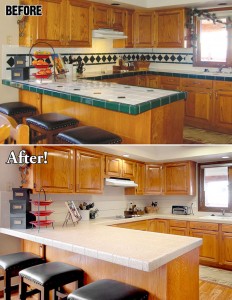 If you're trying to sell your home, your realtor will likely recommended that you update these two rooms before putting it on the market. But replacing your old tub and countertops can be time-consuming and expensive.
With Miracle Method, you spend less time and money on updates to get the most money for your home. Refinishing your worn, damaged, hard-to-clean fixtures or surfaces can make them look brand new—quickly and affordably.
List faster. Replacing a bathtub or countertops can take weeks—consider time to shop; scheduling delivery, removal, and installation; and drywall, plumbing, tiling, and cleanup labor time. Miracle Method can have your existing fixtures completely refinished, looking brand-new, and ready to show in just 2-3 days.
Save money. The price of a new bathtub or countertops is only your first expense—think labor and material costs for unanticipated plumbing, drywall, flooring, and painting repairs—as well as hidden delivery costs. Miracle Method can save up to 75% over the cost of replacing your old fixtures—so you don't spend as much money to make money.
HGTV's Lisa LaPorta from Designed to Sell agrees that, "tub refinishing is a great improvement to make, and it saves you a lot of money in labor because you don't have to pay someone to rip out your old bathtub."
Get the kitchen and bathroom that will sell your home faster and for more money! Call Miracle Method at 855-212-7337 or visit miraclemethod.com.