For over three decades, Miracle Method has been transforming kitchen and bathroom surfaces from tired to inspired! We specialize in bathtub refinishing, fiberglass repair, countertop refinishing and ceramic tile refinishing.

Bathtub Refinishing
Worn out and dated tubs do not need to be replaced! We refinish tubs because our customers don't like the color, the surface is worn and hard to clean, or the surface is damaged.
The Miracle Method proprietary process allows us to restore porcelain, fiberglass, acrylic, and cultured marble bathtubs. We do not use harmful acids and complete the work in 24-48 hours.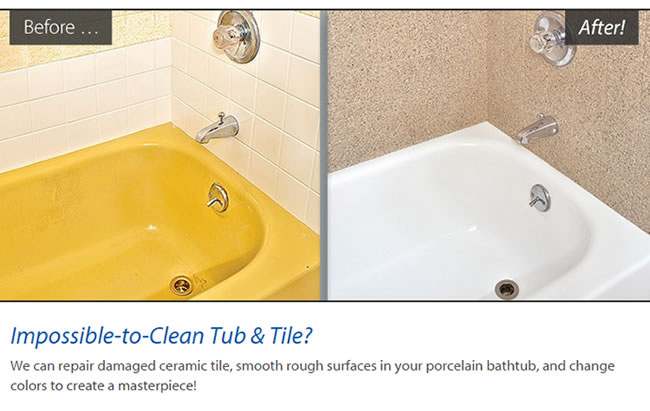 We don't simply paint your tub! We apply hi-tech acrylic coatings that are extremely hard and durable. The key to making the coatings stick is our secret formula called MM-4. We are so certain that our finish won't fail we offer a 5-year warranty. While other refinishers may claim to use similar materials, we have not found any other bonding agent to be as effective as our MM-4.
*A note on reglazing: Some people refer to bathtub refinishing as reglazing. Reglazing requires the use of a kiln and temperatures as high as 2,500°F. Our refinishing process gives similar results without having to remove the tub from your home and at a fraction of the cost.
>>For more bathtub refinishing information view our national website.
Countertop Refinishing
Countertop refinishing will typically save homeowners 30% to 50% over total replacement costs. Most all tile, cultured marble, Corian, Formica, Wilsonart and other laminate countertops can be refinished.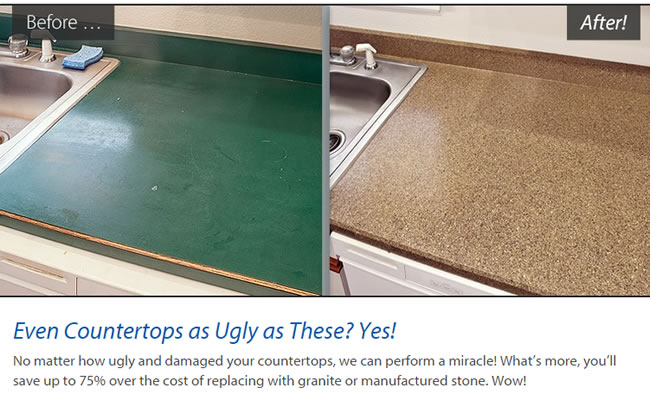 Countertop finishes are available in dozens of colors and textures to fit almost any decorating plan. You can even have a stone look with our revolutionary Miracle Method Natural Accents.
>>For more countertop refinishing information view our national website.
Ceramic Tile Refinishing
Ceramic tile refinishing is an affordable, durable and beautiful alternative to removal and replacement of tile countertops, vanities and walls.
We do not paint your tiles. Our specialized process ensures that your tiles will look and feel like real tile.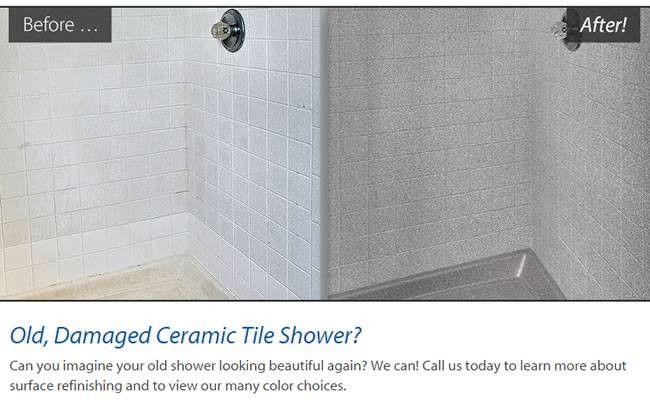 Save up to 50% over the cost of replacement tile and avoid the mess!
Consider Natural Accents™ for a stone finish look.
>>For more tile refinishing information view our national website.
Repair & Safety Services
Bathtub repair can be successfully performed on all types of porcelain tubs as well as tubs made of fiberglass, acrylic, or cultured marble.
>> View more chip repair information on our national site.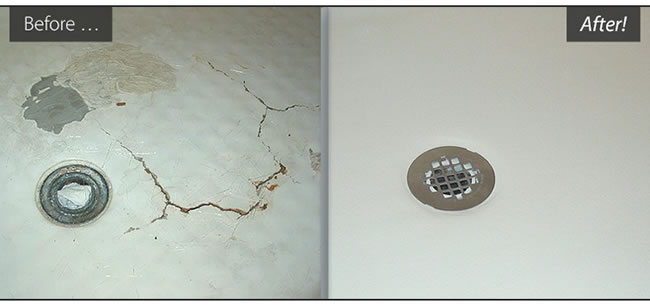 Easy Step™ converts your existing tub to a walk-in tub. This makes entry and exit safer and easier. An ideal solution for senior citizens and individuals with disabilities allowing them to stay in their primary homes.
>> View more Easy Step™ information on our national site.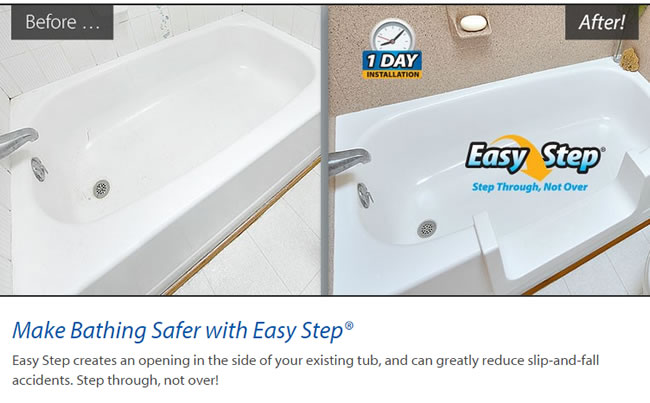 Slip Resistant Surfaces is an option we offer for bathtubs and shower pans. This surface is chemically bonded to the surface so that it will not crack or peel.
>> View more slip resistant surface information on our national site.