Perhaps you've been living in your home for several years and are ready to make some updates to improve its look. Your home was a few years old when you moved in, and the colors of some of the fixtures are more than dated – especially your bathroom vanities. You'd love to replace the sinks and replace them with a color that fits your style more. It can't be all that difficult to go to a home improvement store and pick out new sinks, can it?
It's actually more difficult than you may have imagined. Your old sinks will have to be removed and there may be some plumbing work necessary before the installation of your new sinks can be completed. Plus, it is extremely difficult to find sinks that will fit your old vanity perfectly so there could be some construction work involved as well. It's a rather messy, costly process. Do you really want to go through that to just change the color of your sinks?
An easier option is to have your sinks refinished by Miracle Method. We offer lots of color options, so you can easily choose a color that will match or compliment the rest of your décor in a fresh new way. Plus, refinishing will give your sinks around 15 additional years of useable life. Miracle Method will refinish laminate, Formica, tile, Corian, Silestone, and cultured marble countertops or vanities. Your sink will look and feel like new, and best of all, refinishing only costs a fraction of what you would pay to remove and replace your old sinks!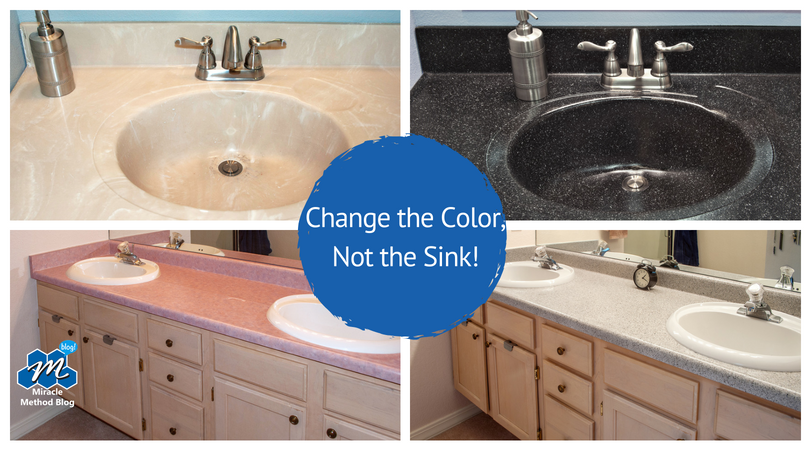 Visit the Miracle Method website today to learn more about how our refinishing process can dramatically transform the look of your home. To reach a franchise near you, use our online locator or call 855-212-7337.d