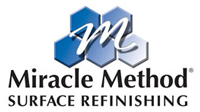 If you're looking to start a franchise, then choosing Miracle Method is the first step towards achieving success. Miracle Method has built a stellar reputation for not only providing a high quality product and service, but for its successful franchising as well.
The following are a few answers to some questions that you may have about our Miracle Method franchises:
How long will it take to get started? – Once you sign a franchising agreement, expect to open for business between 45 and 60 days. You will be provided with in-depth training, marketing and advertising plans, and on-going support to ensure your success.
What kind of support will we provide? – You will be given technical, marketing & advertising, national account and administrative support to generate business and reach your goals.
What kind of training will we provide? – You will receive 5 days of online business management training, 2 weeks of hands-on technical training and five days of marketing, advertising, administrative and sales training. The training will prepare you for how to make a sale, how to follow up, how to market and advertise your franchise and how to use scheduling and accounting software.
To "Get Started", visit our website at MiracleMethod/franchise.com or give us a call at 800-444-8827.
Image courtesy of Miracle Method