Operating a Miracle Method franchise offers great opportunities for those seeking success. However, just because Miracle Method is an established brand with an established reputation for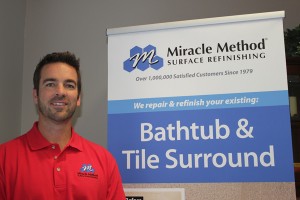 successful franchise operation does not mean that you can just sit back and let the franchise run itself. Steps must be followed in order to ensure your success.
The following are a few tips on running a successful Miracle Method franchise:
Plan for growth – Opening a franchise shouldn't be your end goal. Your goal should be to grow to the point where you're running more than one franchise! Set high, but achievable, measurable goals in order to be as successful as possible.
Follow the system – Franchises have a system in place that should be followed. Don't do things your own way. While creative ideas are valuable, the system that has put into place has been tried and proven. Considering the success of Miracle Method, odds are they know what they are doing.
Collaborate – Don't assume you know best. Listen and take advice from company representatives – they want the same thing as you, after all – your continued success.
Use these tips to run a successful franchise. And contact us at Miracle Method for additional information on opening your own business with an award-winning franchise.