Miracle Method was ranked in FranchiseGrade's Top 500 2016 franchise brands and based on risk investment, we are in the top 10% of the healthiest brands in the US.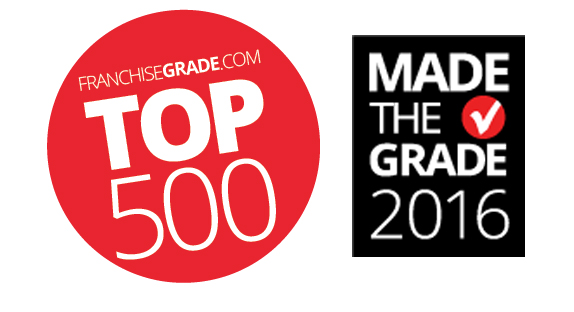 FranchiseGrade.com grades franchise systems through their FPI (Franchise Performance Index™.) The FPI was designed to evaluate, rank and measure the performance of individual and franchise sector performance.
Franchisee investment risk analysis includes
Investment Structure – initial franchise fees, working capital requirements, annual costs.
Ongoing Fees – A benchmark of total royalties and reoccurring fees.
Franchisee Rights – Quality of the territory, potential for continued growth and whether the territory is both protected and exclusive.
Franchise Relations – Includes current and prior legal actions between a franchisor and franchisee.
System Turnover – Includes franchisee terminations, franchisee ceased operations and franchisee transfers.
System Growth – Growth of the franchisee network
Item 19 Disclosure – Each grade is based on the ability of a franchisee candidate to analyze financial data based upon the financial information disclosed in Item 19.
FranchiseGrade collected data from 2,400 franchise systems to determine their Top 500 for 2016.
Miracle Method prides itself on not only providing superior refinishing to both residential and commercial customers, but on offering a proven franchise opportunity for motivated entrepreneurs. Third party surveys consistently show franchisee satisfaction is high among Miracle Method franchise owners. Franchisee satisfaction and overall performance is something we take very seriously. There is inherent risk in any business, but it's valuable to be associated within the Top 10% of the healthiest brands on FranchiseGrade.com!
To learn more about owning a Miracle Method franchise, visit www.miraclemethod.com/franchise or call John Tubiolo, VP of Franchise Development at 855-212-7337.