Oh, we love a sparkly new kitchen.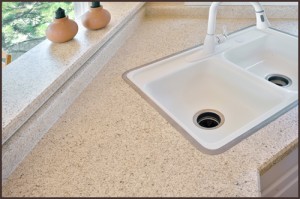 Coffee smells richer. Fruit tastes fresher. Water boils faster. (Well, it seems to.) Cooking and entertaining guests is just more enjoyable.
Until you notice water damage—that soft spot on your kitchen countertop right next to the sink. While the damage isn't bad enough to justify the time and cost of replacing your countertops, it's something you definitely want to fix.
That's where we come in!
You probably already know that our countertop refinishing works on all sorts of damage—from chips and scratches to burns and scorches. But did you know that we can fix water damage, too?
Miracle Method's revolutionary process works so well, you'd never even know the damage was there. After the repair, our technicians apply a durable new finish to the entire countertop, giving it a smooth surface that has a rich, stone-look to it and feels brand-new.
So don't let water damage spoil your kitchen or your coffee. We can quickly and affordably restore the sparkle—and flavor—to your kitchen.
Miracle Method can refinish a wide variety of countertops, like tile, cultured marble, Corian®, Formica®, Wilsonart® and other laminate countertops. Visit our website today to learn more about our countertop repair and refinishing process. If you have questions, go to www.miraclemethod.com/find-a-location.php or call 855-212-7337 to speak with a Miracle Method franchise near you.