When it comes to looking for a franchise opportunity, there is a great deal to consider in determining what is going to be the best fit for your entrepreneurial style, strengths, weaknesses, goals and investment level. The good news is – there is a great deal of information and many resources to help you make this life changing investment.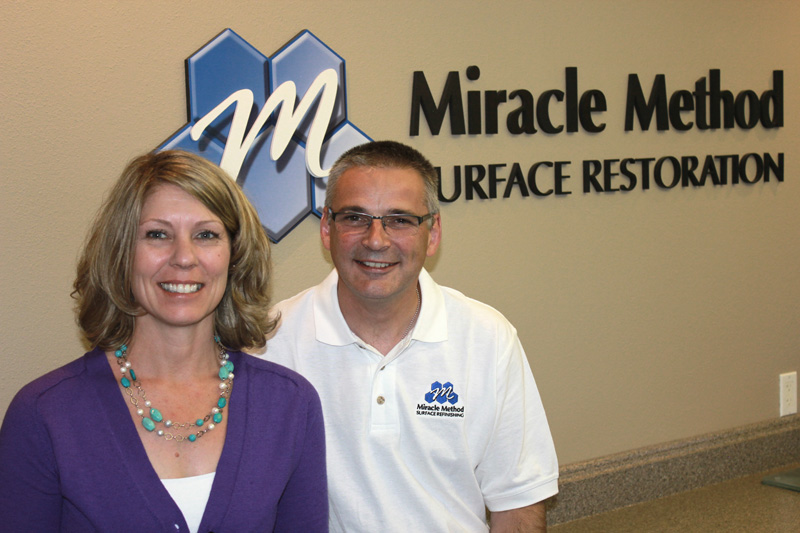 In an article published by Nicole Fallon, of the Business News Daily in May 2015, Nicole addresses some basic tips and guidelines for your search. (See more at: http://www.businessnewsdaily.com/1783-choosing-franchise.html#sthash.kJa9n2bT.dpuf and you can follow Nicole on Twitter here: https://twitter.com/nicolefallon90)
Fallon advises to look for the following attributes in a franchise company:
They stay on top of trends in offerings and operations
They offer a strong support system for franchisees
They have a great corporate staff
They're invested in your potential
They're selective about their franchise partners
On Top of Consumer Trends
With an aging population, bathroom safety is in high demand from a generation of baby boomers who are active and strive for independence and want to stay in their homes longer. Miracle Method's Easy Step® makes bathing safer and is an affordable alternative to replacement, which means we are ahead of the curve on this growing trend!
Stone-look finishes are the rage in both home and kitchen design right now. Miracle Method's Natural Accents® stone-look finishes have over 30 color options that are current with home design trends!
Support for Franchisees
Franchise Business Review (FBR) is an independent organization that surveys franchise owners regarding their satisfaction with the level of service and support they receive from their franchisors. In 2015 alone Miracle Method made the FBR's Top, Veterans, Multi-Unit, and Low Cost reports and we are proud members of their 10 year Hall of Fame.
Miracle Method provides new franchise owners with 20 days of immersion training including hands-on technical training, administrative, sales and marketing training. The training covers everything from hiring new staff, assistance with creating an ad plan, safety, the unique Miracle Method refinishing process and everything new franchise owners need to know to start their businesses.
Visionary Leadership and Support Staff
Miracle Method President Chuck Pistor is a visionary and leader that has driven the growth of the organization for the last 20 years. With the assistance of his executive leadership team, the company has grown to over $50,000,000 in annual sales.
With the assistance of a dedicated National Accounts team, Miracle Method is doing work in major hotel chains like Extended Stay America, Hilton and colleges and hospitals throughout the country.
Invested in our Franchisees' Success
Franchisees receive annual continuing education. This year, we held three CE workshops at our corporate headquarters in Colorado Springs ranging in topics from technical training, office and sales training to strategic financial planning. Our annual National Convention was held in April in San Diego, CA which covered key business topics including profitability, ways to improve business, and commercial work.
Our corporate team provides unparalleled support and commitment to helping franchisees achieve success through utilizing our proven system. Whether it be coaching, marketing support or communication with our franchisees on our owner's forum, we've got you covered.
Ambitious and Like Minded Network of Franchisees
Miracle Method carefully selects new franchise owners. Ideal candidates are motivated, competitive, and able to follow processes and procedures and know how to manage and grow a business. When strong, like-minded franchises make up Miracle Method, the entire company wins!
Franchising with Miracle Method is a great investment because it gives you the proven system, tools, support and superior product and service to be successful. We are looking to expand our network with 15-20 new franchisees in the next 12 months. If you or someone you know is ready to take control of your life and future – don't wait, act today. Visit www.miraclemethod.com/franchise or call us at 855-212-7337 for available territories and more information on how YOU can join this winning team.