If you consider yourself an entrepreneur, then odds are you're dreaming about running your own business. One of the best ways to do this is by starting a franchise; however, figuring out what franchise would be the most successful and the most beneficial for you can be a difficult task. This is why you should consider Miracle Method.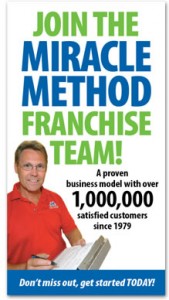 Miracle Method takes great care in making sure its franchise owners have everything they need in order to succeed – and if past successes are any indication, then odds are you will!
Miracle Method will help you become an expert in refinishing bathrooms and kitchens.  While we will train you to know everything about our process and services, your job is to manage the development and growth of your business.  No matter what, we will be there to celebrate your success and walk with you through the challenges.
The Miracle Method system will help you to obtain the sales training you need as well as to teach you how to hire and train your own employees and to profitably grow your business.
Contact us at Miracle Method today to learn more about this opportunity and what you need to get started as your own boss.