Congratulations to one industrious husband-wife team for expanding their successful Miracle Method location to serve the entire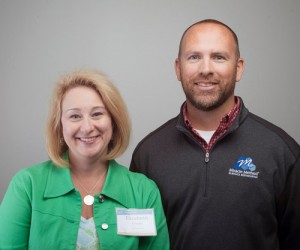 Richmond, VA, market. David and Elizabeth Dowdy recently completed the purchase of an additional territory to meet the rapidly increasing demand in that area.
The Dowdys bought the Richmond location in 2009 and soon noticed that their original territory was not sufficient to meet the growing demand in that area. Five years after opening their Miracle Method location, Elizabeth is still surprised to learn that people don't know about surface refinishing: "It's a great niche that's growing every year."
David and Elizabeth came to Miracle Method from very different corporate backgrounds. By taking advantage of ongoing training opportunities, corporate support, and the repository of resources, they were able to create a successful team. David manages the technicians, inventory, operations, and vendors; while Elizabeth's expertise is in customer service, sales, and marketing.
When we asked the Dowdys for the secrets to their success, here's what they said:
Being part of a company that offers a proven business model and unmatched proprietary refinishing system
The ability to recognize and meet the growing demand for Miracle Method's services
Delineating roles and responsibilities to capitalize on individual strengths
A strong commitment to serving all customers—both new and returning
It's no wonder the Richmond location is a success. We're proud to have this committed and talented team as part of the Miracle Method family! The Richmond location is one of more than 140 Miracle Method offices nationwide and in Canada that has the support of the company's over 35-year reputation of quality and service. For information about owning a Miracle Method franchise, contact John Tubiolo, VP of Franchise Sales, at 877-434-5096 or visit www.miraclemethod.com/franchise.