Working as a successful nightclub owner was taking a toll on Bruce Edgar's life. Weekends and late evenings kept him away from his wife and two young children.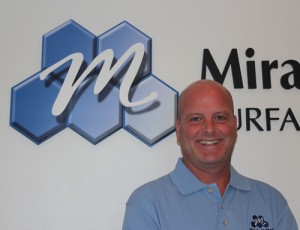 Enough was enough. His family came first, and Bruce was determined to enjoy quality time with them.
For Bruce, the Brampton, Ontario, Miracle Method franchise was the perfect opportunity to regain control over his schedule and his destiny. There are so many markets available—especially in Canada, where Miracle Method has just recently begun to expand. And demand for an affordable, quality alternative to home remodeling continues to increase.
"I'm excited tocome on board and become part of a great team and wonderful organization," says Bruce, referring to Miracle Method's strong business plan and unsurpassed reputation. "I want to help Miracle Method reach its full market potential north of the border, where I see a strong need for our quality surface refinishing and excellent customer service."
No doubt, Bruce's marketing background, strong ambition, and integrity will help Miracle Method grow in the Canadian market and maintain a long tradition of excellence.
Becoming a Miracle Method franchisee means that Bruce no longer has to choose between his family and a successful career. His Brampton, Ontario, office gives him control over both his career aspirations and his choice to put his family first.
The Brampton, Ontario, location is the newest of more than 135 Miracle Method offices nationwide and into Canada that have the support of the company's over 35-year reputation of quality and service.   For information about owning a Miracle Method franchise, contact John Tubiolo, VP of Franchise Sales, at 877-434-5096 or visit www.miraclemethod.com/franchise.