Jersey? Check. Yard sign? Check. Team logo meat brander? Check. Bathtub? Check.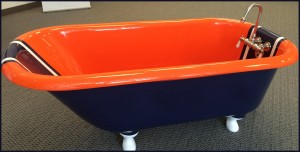 Bathtub? That's right—bathtub.
Endorse your favorite team like none of your friends—or rivals—with your team's colors emblazoned proudly on a clean, sparkling bathtub. If it seems like a luxury you can't afford, think again. Our surface refinishing process saves you time and money, as opposed to an expensive and time-consuming remodel.
If you're already thinking about updating your bathroom, consider refinishing your existing surfaces and fixtures rather than replacing them. In just days, we can make tile, vanities, showers, and bathtubs look brand new. With any texture and any colors you choose.
Including your favorite team colors!
Update your bathroom. Save time and money. Promote your team. Impress your friends—and rivals.
When you show your team spirit with a custom team bathtub, every day in your home is game day.
For more information about our innovative bathtub refinishing services—and refinishing in general—visit www.miraclemethod.com today or give us a call at 855-212-7337.