There was a time when we were enthralled with cultured marble. The drama created by its bright colors. The vivid mock-marble swirling. But now, some of it just looks outdated.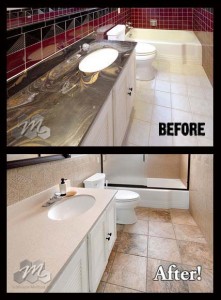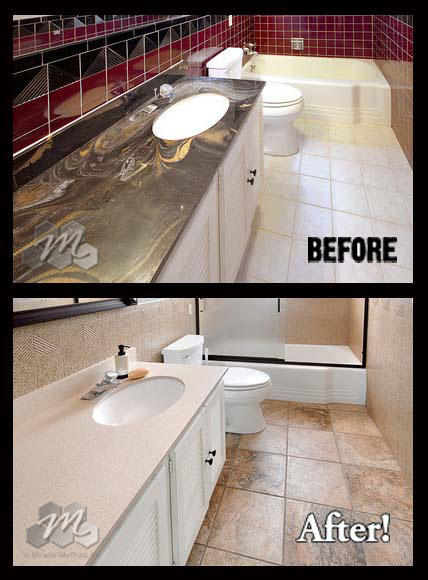 Before you replace it, think about the benefits of cultured marble refinishing instead.
What is surface refinishing?
Surface refinishing takes an old or outdated fixture or surface and updates it with a contemporary new finish:
Restoring an outdated finish so it looks modern and brand new
Completely covering up old and unsightly stains
Repairing any cracks, dings, chips or scratches on your kitchen or bathroom surfaces
The Miracle Method process uses the proprietary MM-4 bonding agent to ensure that your new countertop will be able to withstand the wear and tear of daily life.  Plus, it works on a variety of surfaces to give you a uniform finish:
Countertops
Sinks
Bathtubs
Showers
Ceramic Tile
Cultured marble refinishing is fast, easy, and affordable—up to 75% more affordable than replacing your cultured marble. And, your new finish will be backed by our worry-free warranty.
Are you interested in learning more about refinishing your outdated bathroom fixture finishes? If so, contact us at Miracle Method at 855-212-7337.