Although the surface refinishing industry began a little over 30 years ago, it is still an industry in its infancy with tremendous growth opportunities. These days, consumers are looking for cost effective ways to improve their homes; and with an increased demand for refinishing services, now is a great time to learn about owning a Miracle Method Surface Refinishing franchise.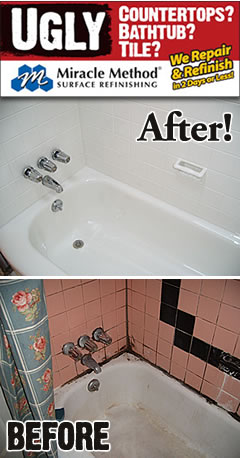 Consider the following:
Essentially any home, hotel, apartment, college dormitory, or any space with a kitchen or bath is a potential customer.
Miracle Method's refinishing process can lead to savings of up to 75% over the cost of replacing bathtubs, tile, and kitchen countertops.
Our refinishing process is usually complete in about two to three days and adds between 15 and 20 years of usable life to the fixture.
Along with improved materials and processes, we have implemented a more effective marketing campaign to help educate consumers on the many benefits of refinishing.
If you are interested in a recession-resistant business opportunity, visit our website for more information about owning a Miracle Method franchise, and be sure to check out our "Success Stories" section to hear about some of our successful franchisees.