Have you ever wondered how work gets done on the home improvement shows on the HGTV and DIY networks?  Production studios like High Noon Entertainment contact quality vendors like Miracle Method Surface Refinishing to do the work.  Our reputation for quality work has gained exposure on such shows as Bathtastic, Carter Can, This Old House, the Today Show and now, Rescue Renovation.
Rescue Renovation's host, Kayleen McCabe, and her team reached out to Miracle Method to restore a 100 year-old clawfoot bathtub in a historic home in Denver, Colorado. The tub would be the focal point of the show's bathroom renovation. The episode, titled Dunn Bathroom, premiered in December 2011 and will run throughout 2012. While Miracle Method's primary business is refinishing "normal" bathtubs, tile and kitchen countertops in homes, hotels, hospitals, apartments and colleges, clawfoot tub refinishing is fun to do… and it keeps these beauties out of the landfills!
Appearance on home improvement shows has helped consumers understand the value of quality bathtub refinishing and how they take advantage of the cost savings surface refinishing can provide in their own homes.
Look at these photos to see how we restored this classic clawfoot tub for Rescue Renovation: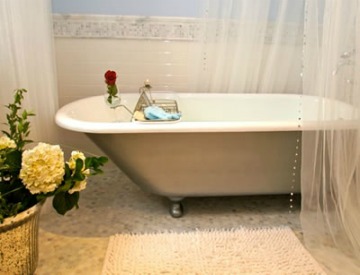 After seeing their refinished clawfoot tub, the homeowners were so pleased, in fact, they said they will refer their friends and neighbors to us!
You can view more photos of this remarkable clawfoot bathtub transformation on our website.
Whether you have a clawfoot tub, or a modern bathtub that is in need of a makeover, Miracle Method can help! Visit our website to learn more about our award-winning surface refinishing process or use our online locator to find a franchise near you.