Anyone with tile walls or floors in their bathroom knows just how difficult it can be to keep the grout lines clean. Grout lines are a great place for moisture to collect, which can make way for mold to grow, adding to the difficulty of keeping the appearance of the space clean. It seems that no amount of scrubbing will return your grout lines to a sparkling, like-new look and you're wondering what you can do.
Instead of removing and replacing your tile, consider tile surface refinishing from Miracle Method. Tile and grout repair are a part of the tile refinishing process. We will thoroughly clean the tile surfaces, and if grout repair is needed, we will float the grout with a special quick set mix to fill any voids or cracks. Once that's dry, we will wipe down the tile and apply our MM-4 bonding agent to ensure the new coating adheres properly. The end result will give you clean and even grout lines that are permanently sealed, which will make keeping your tile floors and walls easier than before. We'll then apply the color of your choice….even one of our Natural Accents™ stone-look finishes which will give your tile a designer look.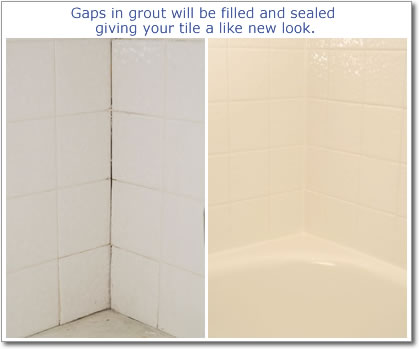 Don't waste another day scrubbing nasty grout lines – Contact your local Miracle Method franchise by calling 855-212-7337 or by using our online locator for more information.