Many homeowners dedicate a space in their den, family room or man cave in the basement to display their favorite sports team's memorabilia.   Why not extend the love to the bathroom, too?   One of the many benefits of surface refinishing is changing the colors of your existing bathtub, sink, vanity and tile, and it happens to be one of Miracle Method's specialties!
While most of our customers tend to select traditional colors, we do have some who choose to outfit a bathroom in the colors of their favorite team, be it college,  NFL football,  or major league baseball!  With a variety of colors to choose from and the ability to match most any existing color or to create a custom color, Miracle Method can help make your design for a fun and festive bathroom a reality . Your home will quickly become the place to be on Super Bowl Sunday!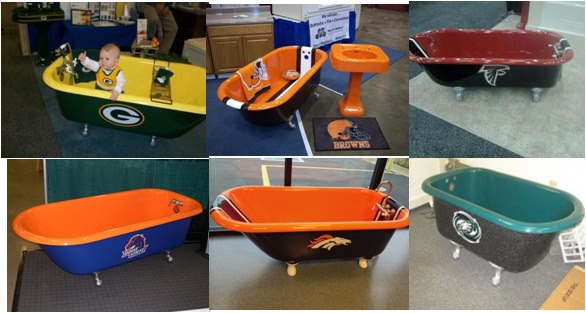 Whether you want to create a sports-themed bathroom or update the look of your tub, tile, shower or vanity,  surface refinishing from Miracle Method can help. Visit our website to learn more about our services. You can give us a call at 855-212-7337 or use our online locator to connect with a franchise near you.
Please note: Logos must be purchased separately.
Image from Facebook.com/miraclemethodsurfacerefinishing