When you built your home ten years ago, you selected Corian© countertop for your kitchen because they are easy to clean and keep clean, are resistant to stains and heat, and have nearly invisible seams. Additionally, you were told they could be repaired. Ten years and lots of use later, you're noticing that your Corian© countertops have seen better days, especially that area where those scratches mysteriously appeared (well… kitchen mishaps do happen!). You remember that your Corian© salesperson said that the countertops can be repaired by sanding the blemishes or scratches out.
With sandpaper in hand, you start working on that expensive Corian© surface, only to learn that it's work, you had the wrong grit and gouged the surface and created a low spot for water to pool.  Then, you see an ad in a magazine for Miracle Method Surface Refinishing, so you decide to visit the website in hopes of a solution. There, you learn that Miracle Method can refinish your Corian© countertops to a like new look and feel for a fraction of the cost! Miracle Method offers the following advantages with its countertop refinishing services:
Inexpensive when compared to countertop replacement
They will fill in the low spot you created
They create an easy to clean surface
It's stain and heat resistant
You can update the outdated milky Corian© look
An almost unlimited color and pattern selection.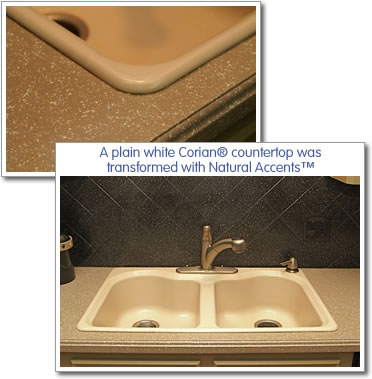 Whether your Corian© surface is gouged, burned or you're just tired of the look, call Miracle Method at 855-212-7337 or use our online locator today to find the franchise near you! You'll be amazed at what you can do and how much money you'll save.