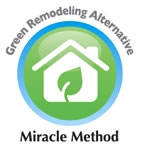 Over the past several years, there has been great emphasis in the building industry on going green and incorporating products and materials into new and existing structures that have little to no impact on the environment. While the idea of going green is still a relatively new concept to some, it is nothing new to Miracle Method.
Miracle Method was green before green was popular! We have been "recycling" through our refinishing process for over 30 years by restoring all types of tubs, tile showers, vanities, sinks, and even kitchen countertops. By refinishing, we can extend the useful life of most bath and kitchen fixtures by 15 years or more. This not only allows consumers to get more use out of their fixtures, but refinishing also reduces the amount of unnecessary waste that ends up in landfills.
The National Association of the Remodeling Industry estimates that a typical remodeling project produces between 70 and 115 pounds of waste per square foot. With surface refinishing from Miracle Method, you can significantly decrease the amount of waste generated from your project, which also contributes to a better environment. In addition, Miracle Method avoids using toxic acids commonly used by other refinishers. To learn more about our unique refinishing processes, please check out our website at http://www.miraclemethod.com.
If you're ready to begin a green remodel, visit the Miracle Method website to learn more about our Green Remodeling Alternative. And to find the Miracle Method franchise closest to you, visit our online locator.