It's safe to say that many people find the idea of owning their own business quite appealing, but many worry about how time consuming the start-up process can be, as well as whether or not their business can be successful. Andrew Gorski of Cleveland, Ohio, knows that feeling. He wanted to own a business that would reward him for the time and effort he put into it. When he searched the internet for solid home improvement opportunities, Miracle Method Surface Refinishing kept appearing at the top of the list.
Andrew took note of Miracle Method's opportunity of quickly generated sales, the proven management model, competitive advantages, broad demand and limited competition, and was very intrigued. He called and requested a Sales Prospectus, submitted a Personal Profile, attended a Miracle Method Discovery Day, and in 30 days was, he was in training.
Although Andrew had no prior experience in running a business, he followed Miracle Method's plan for advertising, which helped him off to an excellent start in 2007. In his first full year in 2008, Andrew earned $230,000 in revenue. Last year, he finished with $917,000 in sales!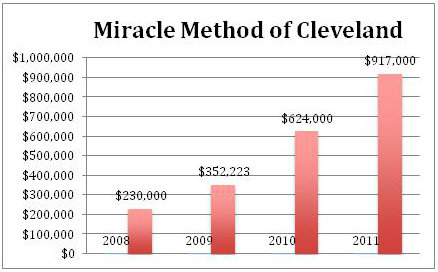 In late 2010, Andrew opened at 5,000-square-foot showroom and shop. He said "Our showroom not only blows our customers away, it blows away all of our competitors. 2012 is going to be even better!"
If you've been looking for a business opportunity that offers a fast start and the opportunity to generate sales quickly, owning a Miracle Method franchise may be the opportunity you've been looking for. Visit our website today to learn more and read about the success stories of other franchise owners. You can also request information online or by calling 800-444-8827