True success comes when vision is combined with a proven product. That's the story behind Miracle Method, the nation's largest professional bathroom and kitchen refinishing franchise.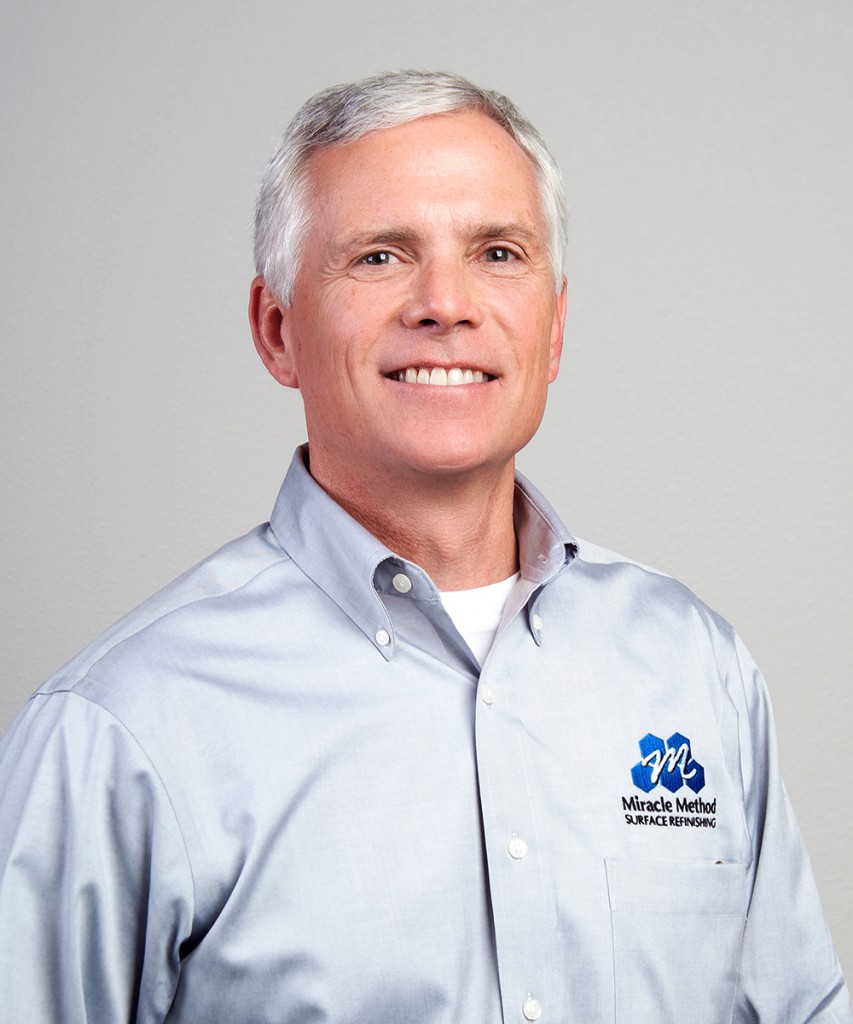 President Chuck Pistor is leading the brand into a year focused on growth and is looking to partner with 15 new franchisees in 2016 with specific plans for Florida, Texas and Arizona, in addition to other territories throughout the country.
Pistor became familiar with the refinishing process when a friend refinished his harvest gold bathtub. Recognizing the cost and time benefits of refinishing versus replacement, Pistor researched the industry and saw tremendous opportunity. He then co-founded a coating supply company that sold products to Miracle Method. When the opportunity to purchase Miracle Method presented itself in 1996, Pistor bought the company.
"When I first started researching the company, I asked the first few franchisees in the system about the adhesion process, and there was no question in their minds that Miracle Method's was the best product on the market," said Pistor. "A brand with this superior product was close to disappearing due to poor leadership. I was already an expert on the product and I knew that the brand needed a jump start and it has come a long way in the last 25 years, all while maintaining some of our original franchisees, which speaks volumes to the longevity of our product and business model."
With just a few dozen franchises in business to start, Pistor's vision and direction has built the network to more than 135 territories that generate more than $54 million in annual sales.
"If you take other similar concepts in our space and add them up in size, we are still the biggest, but I believe that we still have a lot of growth to accomplish," Pistor said. "It's amazing how much demand there is, and yet through our research, we know that 80 percent of the general population isn't even aware of all the benefits of refinishing."
The challenge has been that many homeowners are unaware that there is a cost-effective, professional alternative to tear-out and replacement that will transform the look of their kitchen or bathroom. Surface refinishing has quickly become a preferred option when updating kitchen countertops, bathtubs and tile. Damaged or dated kitchens and baths can be repaired and updated with a completely new look in as little as two days for about 75 percent less than the cost of replacement.
Miracle Method's customers include not only millions of homeowners, but also hotels, hospitals, property managers, colleges and universities, making the business model very attractive to potential franchise owners. Its robust business plan gives franchisees access to corporate support and ongoing technical and administrative training opportunities. The brand is looking to attract owner-managers who aren't afraid to get their hands dirty, but can also scale the mobile business and focus more on development while trained technicians handle the resurfacing projects. Potential owners only need about $60-$80,000 to get started, in addition to the $40,000 franchise fee. Franchisees start with two technicians and two vehicles, and the potential to grow to a multi-million dollar business.
"Our current franchisees understand the opportunity to scale with Miracle Method's proven business model and services that are in such high demand," Pistor said. "We've really honed in on our process and we're excited to start 2016 laser focused on development and awareness of our product offering."
For more information about Miracle Method click here. – See more at: http://miraclemethod.1851franchise.com/article_details/3066/Leader-in-Surface-Refinishing-Industry-Miracle-Method-Franchise-Announces-Strategic-Growth-Plan-For-2016-#sthash.3p1KxdqK.dpuf