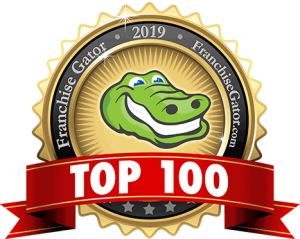 Franchise Gator has chosen Miracle Method Surface Refinishing as a Top 100 franchise for 2019. This is the 6th annual Top 100 list the online franchise directory has been released, and was developed to assist prospective franchisees in their search for a franchise opportunity to invest in.  The list focuses on identifying franchisers with strong growth potential at an investment level that is more in line with the average franchise buyer.
"Being in the top 100 of franchises in the nation is an incredibly high honor," said Gwyn O'Kane, VP of franchise development. "We have maintained a strong focus on selecting the right owners for Miracle Method franchises and providing them with the best support in the industry. Our franchise owners enjoy the quality of life they can achieve by owning their own business, and it shows both in the work they provide for their customers and in our overall success as a company."
Miracle Method is ranked as the number 49 franchise opportunity overall.  The ranking was developed using a formula based on several criteria including financial stability, growth, sustainability, profitability, transparency and franchisee satisfaction.
"Each opportunity on the Top 100 list has demonstrated strong growth potential coming into the new year," said Eric Bell General Manager at Franchise Gator. "Not only are these opportunities among the very best in the industry, but they also offer a solid investment for the everyday franchise buyer."
About Miracle Method Surface Refinishing
Miracle Method is the nation's largest bathroom and kitchen surface refinishing franchise, with more than 140 locations throughout the U.S. Founded in 1979, Miracle Method specializes in bathtub, ceramic tile, and countertop refinishing and strives to constantly improve their areas of expertise. Miracle Method's franchise owners all live in the markets they serve and pride themselves on being independent, local small business owners building outstanding reputations in their communities. For more information about Miracle Method, visit www.miraclemethod.com or call 888-271-7690.
###