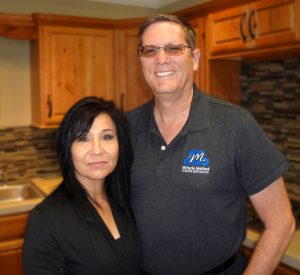 Kitchens and bathrooms can now be refinished at a fraction of the cost of replacement in 2 days or less.
TAMPA, Florida. – April 3, 2019 – The largest kitchen and bathroom refinishing company in North America, Miracle Method® Surface Refinishing, announces a new franchise in Tampa, Florida owned by Mike and Dena Shoemaker. Working alongside the Pinellas County franchise, customers around the Tampa Bay area can now have their kitchens and bathtubs refinished by surface refinishing pros.     
"Miracle Method offers such a great product. We feel this is an incredibly valuable solution for consumers looking to make improvements to kitchen countertops, bathtubs and shower surrounds for thousands less than replacement," said Dena Shoemaker. "With our experience in the residential remodeling space, we know that Miracle Method is a fantastic, cost-effective solution for anybody looking for that home makeover, without having to take out a second mortgage."
The husband and wife team, who recently moved from Kentucky to Tampa to be closer to their children and grandchildren, bought a Miracle Method franchise because of their home remodeling passion and the proven systems Miracle Method has in place.
"The corporate staff treat us like family, allowing us to be open and bring us along as owners in this business. They are experts in their field and very knowledgeable in helping train us. We've appreciated the forward-thinking when it comes to technology, customer service support, marketing and the ongoing development of our business," Mike said.
The Shoemakers just completed extensive training at the Miracle Method Corporate Offices in Colorado Springs, where they passed their courses quickly. "Mike and Dena show real promise and we are excited to have them grow our Tampa market. They will be a positive addition to our growing 150 franchise network across the US and Canada" Miracle Method President Chuck Pistor said.
With 40 years of experience, Miracle Method is the fastest growing kitchen and bathroom surface refinishing company in the industry. The company has shown a 73 percent sales increase over the last six years, and specializes in ceramic tile, bathtubs and surrounds, showers, countertops, vanities and sinks.
About Miracle Method Surface Refinishing
Miracle Method® Surface Refinishing is the nation's largest bathroom and kitchen surface refinishing franchise, with more than 150 locations throughout the U.S.. Founded in 1979, Miracle Method specializes in bathtub, ceramic tile, and countertop refinishing and strives to constantly improve their areas of expertise. The award-winning franchisor was listed on Entrepreneur Magazine's Franchise 500® list in 2019 and is also an actively participating member of Vet Fran. Miracle Method's franchise owners all live in the markets they serve and pride themselves on being independent, local small business owners building outstanding reputations in their communities. For more information about Miracle Method or to inquire about franchise ownership, visit www.miraclemethod.com or call 877-434-5096.
###