Salt Lake City Owners Erin and Gabe Gilliam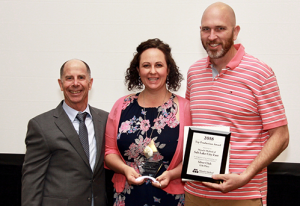 Salt Lake City, Utah, May 9, 2019 – Miracle Method's Erin and Gabe Gilliam were identified by franchisee satisfaction research firm, Franchise Business Review, as being one of 2019's Rock Star Franchise Owners.
Erin and Gabe were selected from over 27,000 franchisees, representing more than 300 brands that participated in Franchise Business Review's research in the past 18 months.
The Rock Stars recognized were nominated by their franchise brand leadership as franchisees who set admirable examples when it comes to leadership, business acumen, financial and professional success, and contributing to their community.
"There are so many deserving franchise owners out there who are achieving their dreams of business ownership through franchising," said Michelle Rowan, president & COO of Franchise Business Review. "It was incredibly difficult to narrow down the list, but in the end, we chose individuals who exemplify the qualities that make the franchising model work: a strong work ethic, leadership, and a real commitment to their business and community. Each one of them is truly a franchise Rock Star."
Erin and Gabe Gilliam have a track record in franchising having owned another brand in the past. After selling that franchise, the husband and wife team came to work for Miracle Method supporting franchise owners in the areas of marketing and operations, however, the need to own their own franchise soon took over and after only two years in Salt Lake City, they purchased their second Miracle Method franchise territory.
"The franchise opportunity has enabled the Gilliam's to build a great community focused business while still affording them plenty of quality time with their two young sons. Erin and Gabe are exemplary of what any franchisor would want in a franchise owner. They are high energy, driven franchise owners with a healthy work-life balance who also find time to give back to the franchise community" says Gwyn O'Kane, VP of Franchise Development. "We are proud to have them as part of the Miracle Method family and to see them recognized as Rockstar Franchise Owners".
About Miracle Method Surface Refinishing
Miracle Method® Surface Refinishing is the nation's largest bathroom and kitchen surface refinishing franchise, with more than 150 locations throughout the U.S.. Founded in 1979, Miracle Method specializes in bathtub, ceramic tile, and countertop refinishing and strives to constantly improve their areas of expertise. The award-winning franchisor was listed on Entrepreneur Magazine's Franchise 500® list in 2019 and is also an actively participating member of Vet Fran. Miracle Method's franchise owners all live in the markets they serve and pride themselves on being independent, local small business owners building outstanding reputations in their communities. For more information about Miracle Method or to inquire about franchise ownership, visit www.miraclemethod.com or call 877-434-5096.
About Franchise Business Review
Franchise Business Review (FBR) is the only independent market research firm that specializes in benchmarking franchisee satisfaction based exclusively on ratings and reviews from franchise owners. FBR publishes free and unbiased franchisee satisfaction research reports throughout the year online at http://www.FranchiseBusinessReview.com.
###