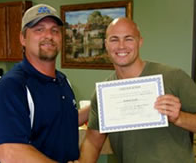 Miracle Method is the franchise opportunity you need to get your own business up and running quickly and efficiently. With the average start-up time ranging from 45 to 60 days, we can provide with will all the necessary training to keep your phone lines ringing. All you have to do is fill out our Information Request Form or call 800-444-8827 and ask about purchasing a Miracle Method franchise in your area. Our trained and helpful staff is happy to answer any questions you may have and will send you a Miracle Method Franchise Information packet.
Once you have explored and evaluated the Miracle Method franchise offer you will be invited to attend our Discovery Day. Discovery Day allows you to experience Miracle Method firsthand. You will see how our product works and meet some of our support staff, who will be with you every step of the way.
Our summer dates for Discovery Day is July 22nd and August 19th. For more information please visit us online at Miraclemethod.com/franchise.