According to the CDC, every year one in three seniors ages 65 and older falls. These falls can lead to injuries such as hip fractures, head trauma and can even be fatal. Fortunately, these falls are largely preventable. One way to prevent falls is to make sure that your living space is equipped with the proper safety products, especially in the most dangerous room in your house–the bathroom!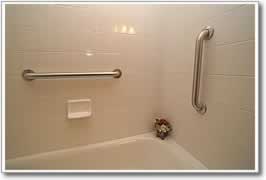 There are many ways to make your bathroom a safer place. Having products like curved shower rods, hand-held shower nozzles and grab bars installed is one way to ensure your safety. Grab bars are especially important because they can allow you to feel more confident getting in and out of the shower.
Our Miracle Method professionals use ADA placement guidelines when installing these grab bars so that homeowners and caregivers can feel confident and secure in their new bathroom safety products. Miracle Method's goal is to provide the utmost in safety so that our elderly customers can remain independent and living in their homes longer.
For more information on the installation of grab bars and other bathroom safety products, visit our website to Find a Location or call 855-212-7337 to speak to the nearest Miracle Method professional.