Spring is the perfect time to catch up on all of those cleaning projects that only get done once or twice a year, like cleaning baseboards, blinds and ceiling fans. For a guide on deep cleaning your kitchen, you can refer to this previous post from January.
There are some areas of the home that obviously need cleaning, but what about the less obvious, like cleaning your household appliances? You spend a lot of money buying high-quality appliances and you want them to last, to perform at their full capacity, and also be energy efficient.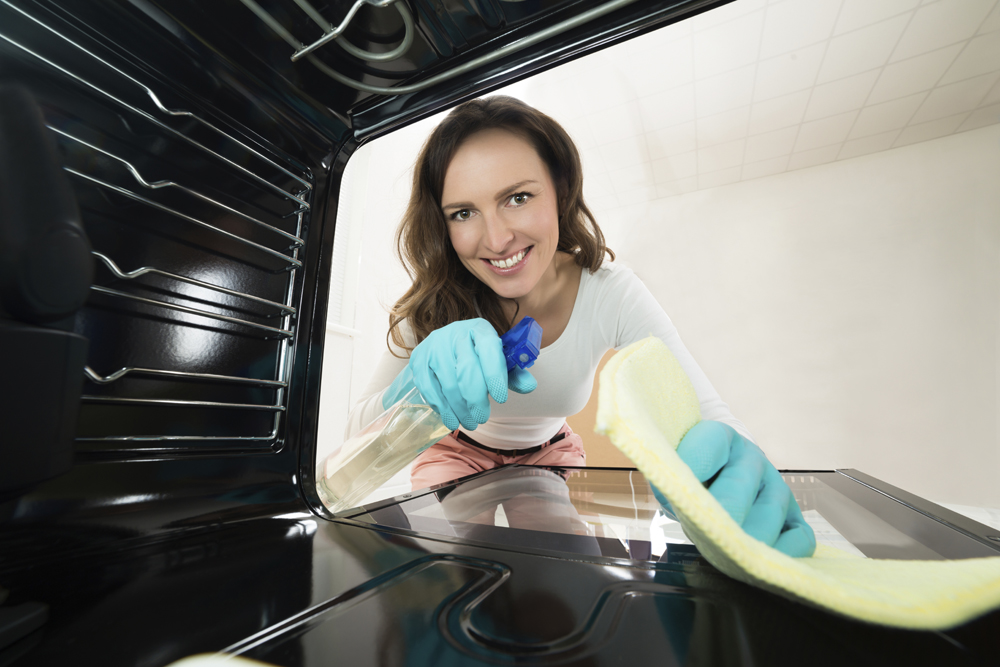 Guide to Cleaning Your Household Appliances
Cleaning the Dishwasher

Dip a damp cloth in some baking soda and clean smudges off of the door. Use a scouring pad to remove stubborn spots.
Run a wash load using powdered lemonade mix or Tang (remove all dishes first!) to remove hard water stains and deodorize the interior. The acid in the powder helps the cleaning action.

Cleaning the Microwave

Use mild dishwashing liquid, baking soda, or glass cleaner to wipe down the inside of the microwave. Wash the glass tray in the dishwasher or in the sink in soapy water.
Never use commercial oven cleaner inside the microwave oven.
For really stubborn stains, place a glass measuring cup filled with 1 cup of water and 1/4 cup vinegar inside the oven and boil for 3 minutes. The stains will come off much easier.
To remove lingering odors, place a dish of vinegar inside the oven and let it sit overnight.

Cleaning Range Hoods

On a regular basis, wipe down the exterior and interior of the range hood with a damp cloth. For a more thorough cleaning, use a solution of hot water, dishwashing liquid and ammonia. Be sure to wear protective gloves.
Remove the filter cover and wash it in hot, soapy water. Wipe the blades of the fan with the same solution listed above.
Clean metal mesh filters and replace the filters on non-vented range hoods every 6-9 months or according to the manufacturer recommendations (refer to your owner's manual.)
Do not wash charcoal filters.

Cleaning Ovens

Always follow the manufacturer's instructions when cleaning your oven. The self-cleaning cycle, while effective, also shortens the life of the unit due to the extremely high temperatures. Commercial cleaners are also dangerous when they come in contact with your skin or eyes. Be sure to wear protective eye wear and gloves when cleaning your oven.

Cleaning Refrigerators

Defrost the freezer section of your refrigerator when the frost gets to be about 1/2″ thick. Remove all of the food and place it in an ice chest to keep it cool. It's good to do this when your supply gets low! It's also a great time to toss any expired items or those with freezer burn- it happens to the best of us! Remove all shelves, racks and trays and wash them hot, soapy water. Dry thoroughly.
Use a hair dryer to help melt the ice.
Wipe down the entire interior with a mild spray cleaner. Dry thoroughly before returning the shelves, racks and food.
Vacuum the dust behind the bottom grill every 6 months.
Place an open box of baking soda in the back of the fridge to absorb odors. (Or try one of these– Arm & Hammer's monthly replaceable filters!)
To clean the outside, use a damp cloth dipped in baking soda. Rinse well and dry with a soft cloth.
If you regularly keep up with these tasks, they won't be too overwhelming and you can extend the life of your appliances!