How about trying a bullnose or other custom edge design?  Doing so will transform your counter into a trendy, modern-looking kitchen design.
And nowadays, it seems as if squared edges on counters have an old fashion appearance  and "can quickly date the age and appearance of your kitchen or bath" (Miracle Method).
In addition to this,  bullnose counter edges can also do the following:
soften the look of the counter surface
improve the look and feel
dramatically upgrade any kitchen or bathroom with a colorful stone finish
make your kitchen safer than it was with sharp, square edges, especially if you have younger children
Take a look at two professional counter tops done by Miracle Method: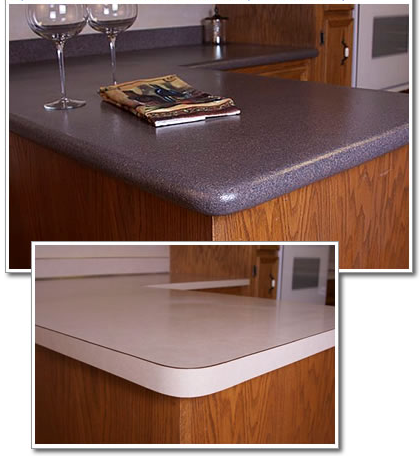 Refinishing those edges will have your counter tops looking just as new as replacing it (and isn't as expensive!). Wouldn't you like for your counter edges to look like this?
If you would like to see other samples of round or customized edges by Miracle Method, call 888.271.7690 and schedule an appointment with a specialist.