Hooray, it is officially the first day of Fall!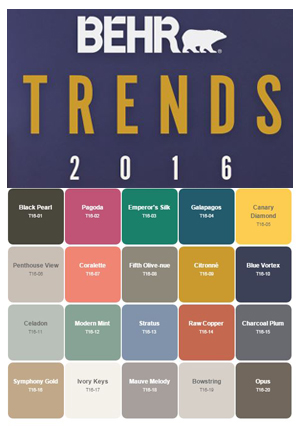 Every year around this time, paint companies release color palettes for upcoming trends. While having a neutral color palette in your home for big ticket items like floors, countertops and large furniture makes sense, you can still follow trends by adding affordable accents like:  paint, throw pillows, lampshades and other fun accessories.
Behr Paint just released their 2016 Color Trends and the colors are bold, high-contrast, and full of dimension.
This dining room is a great example of being bold with accessories and paint. The use of bright colors from the chairs, drapes, lamps and framed mirror make the room a work of art.
In this age of technology and being constantly "plugged in", we are all craving more human connection. We need places where we can put aside our cell phones and tablets and share conversation. A room with this much character creates a great conversation piece where friends can gather, share food, stories, laughter and re-connect with one another.
Your home should be a place where you can unwind, unplug, and gather with friends and family.
Updating your home doesn't have to cost a fortune. A simple update in wall color can completely change the look of a room. Here at Miracle Method, we believe in affordable remodeling.
Feel free to our visit website to check out our Natural Accents color samples to see if there is color you would love to use for a new look on your kitchen counters, bathtub, tile and more. With a new season, comes a new opportunity to make your home beautiful again!