After years working for others, Phil Brookover and Keith Lund were ready to make a change.
After experiencing the rollercoaster that is the electronic manufacturing industry, Phil Brookover was ready to take control of his own life. He then began his journey to find a business of his own and take control of his future. After speaking with his neighbor Keith Lund about the possibility of franchising, they decided that franchising was the perfect next move for the two. After ample research in finding the perfect franchise model, the pair decided Miracle Method was a clear winner.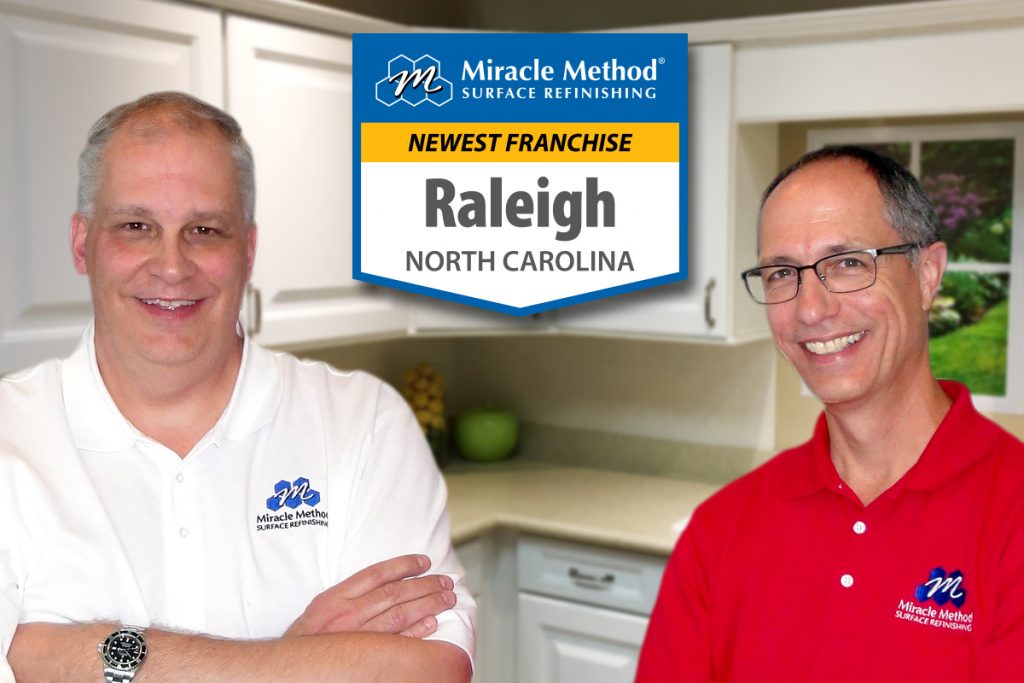 Brookover explained, "When we looked at Miracle Method, we could see the potential. We were looking at another franchise at the time, but as we talked to Gwyn O'Kane, VP of Franchise Development, and learned more about the brand and how quickly profits were available in comparison to some of the others, it just made a lot more sense. Any concerns I had were answered through the pre-discovery day process. Talking with Gwyn and other franchise owners in North Carolina made it feel like Miracle Method was the perfect fit for us."
Brookover was particularly thrilled when he learned that Miracle Method didn't charge franchisees for their unique, proprietary bonding agent that sets the franchise apart. "The final selling point for me was the fact that Miracle Method doesn't charge you for the bonding agent that is used for the process. Other franchises we were looking at there was a lot of these products you would have to buy from the franchise to get set up. We liked that there was no charge and they weren't trying to get more out of us."
Although Brookover and Lund are new franchisees, only completing their training in late April, the partners feel more than prepared to get to work and bring the benefits of Miracle Method to their community. This preparation is no accident, the franchise takes training very seriously. Franchisees and their technicians go through three weeks of training so they are ready and capable of completing any project.
The corporate team is based in Colorado Springs, CO but takes pride in their commitment to being available for franchisee to contact 24 hours a day, 7 days a week.
"The corporate staff has been really great. After our three-week training, we've continued to receive ongoing support. We know they are just a phone call away and we have access to different people within the office who are always willing to help whenever we have questions," shared Brookover.
Just a few weeks into working with Miracle Method full time, Lund and Brookover already have a handful of jobs under their belt and are starting to make a name for themselves in their community. When asked what Brookover was most excited about his future with the franchise, he shared that he's excited to be a part of a franchise that enhances people's lives.
"Being able to satisfy customers. There's a lot of people out there with outdated or need a fresh look. It's really exciting that we'll be able to satisfy their needs for much less."
For more information about becoming an independent franchise business owner with Miracle Method, please click here or call 1-877-434-5096.