If you are considering owning your own business, it's important to make sure that there is a market for the products and services your business will offer. Because refinishing is a service that nearly every home, hotel, and apartment could use and benefit from, it makes great sense to consider owning a Miracle Method franchise.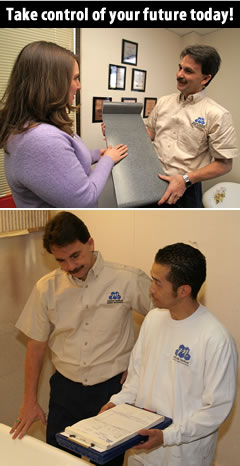 As a matter of fact, any property with a bath or kitchen is a potential prospect for refinishing services. Miracle Method's surface refinishing process can restore all kinds of bathtubs; ceramic tile walls, showers, vanities, and even kitchen countertops to a like-new look and feel. Plus chips, scratches, and cracks can all be repaired, giving most fixtures around an additional 15 years or more of usable life! When you think of all of the homes, hotels, and apartments with kitchens or baths in need of a restored surface or an updated look, you can really begin to see the potential a Miracle Method franchise has.
Along with the broad demand for refinishing services, there are a number of other advantages to owning a Miracle Method franchise, such as the following:
Minimized risk – Working with a reputable franchise with a proven business model.
Name recognition – A well-recognized brand name will draw in customers who feel confident in working with a national franchise vs. an independent with no national support or accountability.
Training – Miracle Method provides a regimented training program that teaches franchisees about its services and business operations.
Advertising – Professionally designed ad campaigns to promote your business both locally and nationally.
If owning a Miracle Method franchise sounds like the business for you, visit our website for more information, or give us a call at 800-444-8827. We'd love to help you get started in owning a successful Miracle Method franchise.