You've decided it is time to bring your home out of the 1990s and into the present. As much as you'd love to do a complete remodel, you don't have that kind of budget and will need to stretch your home improvement dollars.   A friend mentions that you should consider surface refinishing as a cost-effective alternative to replacing your bathtub and countertops, but you've got lots of questions about the process… What does professional surface refinishing consist of? What types of surfaces can be refinished? How long does it take? How much money will refinishing save you? And how long will refinishing last?
The answers to those questions, and more, can be found in Miracle Method's Kitchen & Bath Surface Refinishing Guide. This free resource is available online, in a PDF format , in an interactive format, and in print from your local Miracle Method office.  The Guide addresses most any question you can think of when it comes to refinishing surfaces such as bathtubs, countertops, showers, tile, and vanities.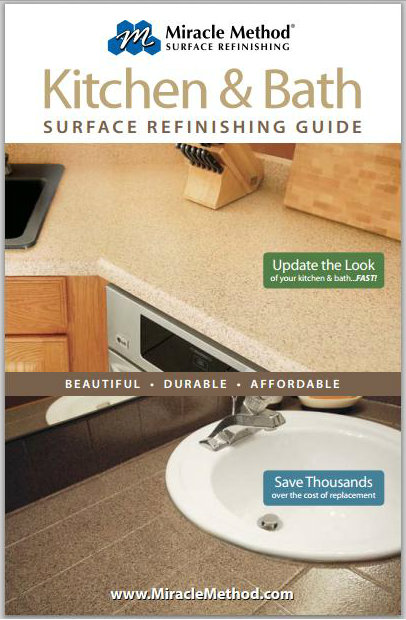 Of course, if you still have questions about surface refinishing after reading through Miracle Method's Kitchen & Bath Surface Refinishing Guide, feel free to contact your local franchise to speak with a representative. You can find your local franchise by calling 855-212-7337 or by using our online locator.
Now, let's get those questions answered and bring your home into the 21st century!