This amazing story about bathtub refinishing came from the Miracle Method in Fresno, CA. Someone's shirt caught on fire, and they threw their flaming shirt into their empty fiberglass bathtub.
That was a big mistake!  Fiberglass is not fireproof and burns with a steady, if not quick consistency.  This bathtub was no exception to this rule.  Smoke and fire scorched the tub, causing serious burn damage to the front half of it, particularly on the bottom left of the tub, and smoke damage rose up and over from the left side of the bathroom's ceramic tile wall.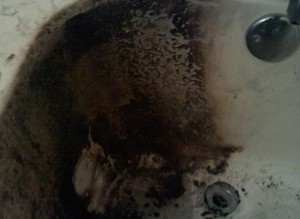 Fortunately, we're called Miracle Method for a reason.
Despite the dramatic damage done to tub and tile, we were able to repair, clean and refinish these areas, transforming them, making them nice and white and just like new, and adding extra life to the tub and tile.
If you're interested in getting your bathtub, ceramic tile, or kitchen countertop refinished, than give us a call.  Find a Miracle Method location in your area or call us at 855-212-7337.  You've seen what we did in Fresno, now imagine what we can do for you.  Contact us today!