Perhaps you've been living in your home for several years now and are ready to spruce it up a bit. You take a look around and notice how ugly and outdated your bathroom sinks and vanities are. On the other hand, the tile is in great condition and now you're trying to decide what to do.
One option would be to replace your sinks, but finding sinks that fit your vanity exactly like your old sinks did could be very challenging. Replacement also puts your space out of use for a while, and sometimes, construction doesn't begin or end on schedule, which can lead to a very expensive bill when the job is complete.
Another option is to have Miracle Method refinish your sinks and vanities. The refinishing process also includes repairing damage, and once completed, you'll get around 15 extra years of useful life out of your sinks and tile. We refinish items in place so you will be able to use your refinished vanity in just a few days, as opposed to waiting for weeks for a construction project to end. You'll love your vanity refinished in one of Miracle Method's Natural Accents™ stone look finishes.
Best of all, Miracle Method's refinishing process will save you a lot of money. In fact, we typically save customers up to 75% over the cost of removal and replacement.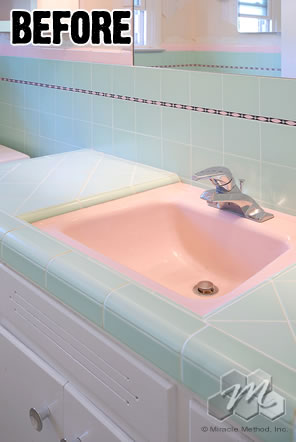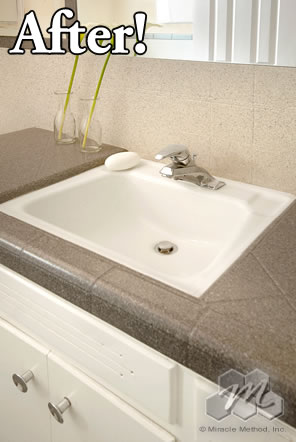 If you're curious to know more about refinishing your sinks, visit the Miracle Method website for more information, or contact your nearest Miracle Method franchise by calling 855-212-7337 or by using our online locator.