After 30 years of work in the public service sector, Mike Blass began a remodeling company and began acquiring residential properties. With both, he quickly realized that refinishing was a more appropriate solution for updating bathtubs, tiles, and kitchen countertops, as opposed to replacing them.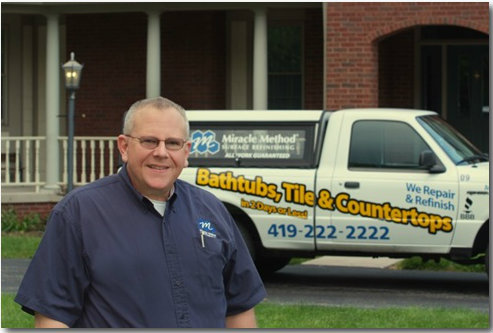 As he searched for refinishers online, Miracle Method "kept coming up." Mike sent in a request for some information and received a call back from the Miracle Method franchise sales director. They discussed how Mike's remodeling company and a Miracle Method franchise would complement each other quite well. At the time, Mike wasn't ready to make the move financially, but he kept in touch and two years later, in 2010, Mike officially opened his Miracle Method franchise.
Mike says Miracle Method didn't disappoint him throughout the start-up process. He said, "They presented me with a business model and plan to bring in a positive cash flow and build equity as quickly as possible."
Mike opened a showroom soon after returning from training. He notes that since the average customer isn't familiar with all of the benefits refinishing offers, the showroom allows him to demonstrate how good refinishing is and how much money a customer can save.
Additionally, Mike has been able to take advantage of the support available to Miracle Method franchise owners. "Miracle Method is on a constant quest to bring in new systems and sources of revenue and profit for its franchisees. Miracle Method is a business opportunity that is not only viable, but has tremendous upside potential. It may have taken me two years to purchase the franchise, but I'm glad I did."
Whether you are looking for a new way to earn an income or someone who is interested in taking control of their own future, owning a Miracle Method franchise could be solution you are looking for. Please visit our website today for more information, or give us a call at 800-477-8827 to request some information and get started.