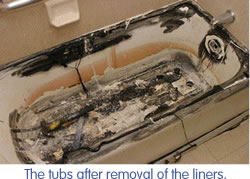 We're not called "Miracle Method" for no reason- our bathtub surface refinishing method makes an astounding difference on even the worst bathtub disasters. Take for instance on of our case studies, in which Miracle Method came to the rescue of the Milwaukee Hilton!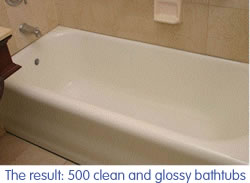 The hotel was experiencing an awful "squishy bathtub" problem. About 500 units with worn out and discolored bathtubs had been "upgraded" with new bathtub liners. However, only 2 years later, most of the liners had failed, allowing water to collect between the tub and liner, and resulting in a "squishy" feel underfoot, as well as mold and odors resulting from the stagnant water.
Replacing 500 bathtubs would have been incredibly expensive, time-consuming, and disruptive to hotel guests, so the hotel made a wise decision. They called Miracle Method to the rescue! Miracle Method removed the liners and began work restoring the original bathtubs. Chips, cracks and scratches were mended, and the tubs were thoroughly cleaned, disinfected, repaired, and bonded, before finally undergoing the final finish.
See more Miracle Method case studies online, or call 888.902.0515 to speak to a Miracle Method franchisee near you.
photos via case study linked above